"The hotel is great, my colleague and I are very happy. Your company is very helpful, and we will definitely use your services again when we next travel to China."
Ms. Murray


"I will keep your information with me for my trip next time I come to China when I will have more time to see you and do some more sightseeing. You are a very valuable contact thank you once again for your thoughts. "
Mr. Davies-Jones

More Testimonials
Who are We
HRC International Travel Corporation, a joint venture invested by famous enterprises of China and Britain , was initially established in Hong Kong 2000 for the distribution of traveling.
In China,You can rely on us!
We are all come from different parts of China with different minority's culture, but we are happy to work together at HRC and happy to help our customers to have a memorial trip in China.All the trip advisors are college graduates who have majored in English or the tourism industry that is their specialty and have eager to put their enthurisium on their job.The team of sales will possess a wealth of local information about the area and culture, and provide you with the favor trip.
| | |
| --- | --- |
| | To Meet Our Sales Team Guangzhou |
The Strong Customer Service Team
Candy Li

-Trip Advisor

Hi, My name is Candy. I joined HRC WORLDWIDE once I finished my university in New Zealand.After four years systematic and professional study and three years working experience as travel advisor in HRC WORLDWIDE.I believe that I can arrange you a comfort and colorful trip in China.
Come and enjoy your journey in China! Travel in this wonderful land is much funny that only read on a book!
<< Back To Top
Paley Tang

-Trip Advisor

I come from Hunan, middle part of China.Working in hotel let me know how to dial with clients face to face.Now, I'm working in HRC which is an online travel agent that offer service through internet.Working hard with patient is my rule.With more than 3 years on-line working experience, no matter you are on vacation or on business, I will provide you the hand-made and carefree service.
<< Back To Top
Michelle Sun

-Trip Advisor

If I can bring sunshine to everybody, I'm happy then.So, I'm happy to work at HRC Worldwide Travel Service where I can dial with different people from all over the world and happy to get happy news from them.Of course, I also give good news and good service to my clients since I am an attentive and enthusiastic girl.
<< Back To Top
Nancy Wan

-Trip Advisor

This is Nancy Wan, an open-minded, optimistic Zhuang Minority girl with sweet voice.My major subject was tourism management when I was at the university.I'm happy to work as a trip advisor which I can learn a lot from my clients and also can accumulate experience for my better service.
It's my great pleasure if I could help you have a good trip
<< Back To Top
Crystal

-Trip Advisor

This is Crystal Dai,I come from the city of QingDao--a beautiful coast city in Shan Dong provence and I am a sunshine girl with enthusiasm ,Now .I am very glad to work as a trip advisor at HRC worldwide once I finished my university,I will do my best to provide a good service to my clients to let your trip goes smoothly in china!
<< Back To Top
Margaret

-Trip Advisor

Margaret, one of the HRC Call Center鈥檚 team member. No matter what you want to know aoubt your journey, you can ask Margaret. Margaret can give you the best choice.
<< Back To Top
Maggie

-Trip Advisor

This is Maggie Tang from HRC Travel Agency. I am smart and patient. I want to make friends with all of you from all over the world. Also if I travel to your city, I want to meet you in your side. So if you come to China, please feel free to contact me. I think that I can help you for tour, hotel, flight ticket and car rental. What鈥檚 more, if you come to Guangzhou, I can show you as a guide to explore more in Guangzhou. See you in Guangzhou. See you in China. See you in all over the world.
<< Back To Top
Yoyo

-Trip Advisor

Do as one wills and try to earn an honest penny from that. This is my belief. My major is tourism management and I love travel, I always try to find a job that could conforms to my major and hobby, then I joined this warm big family very fortunate after I graduate from college. I promise I鈥檒l serve you with my great enthusiasm. Here I am---- YoYo from HRC.
<< Back To Top
Steven Dong

-Trip Advisor

I am a kind and easy-going people with great enthusiasm.It's a happy thing to receive guest email at office when I working in my office.To give very prompt and quick response to my customer is my rule.I always put my full effort on my job to make my customer satisfy with the service they receive and eager to solve the problem if there's any complain.I believe that the customer will rely on you if you always offer your truly help to him.
<< Back To Top
Sunny Cai

-Trip Advisor

I am a lovely girl with enthusiastic attitude at hospitality service.I always take care of the requests from our clients and satisfy them with my constructive suggestion at the same time. I'm lucky to work at HRC and have very nice partners and clients who show me much more about the world. "To offer the better service to my clients"s my goal,Sunny is happy to be at your service.
<< Back To Top
Livans Chen
-Product Manager
Hi,this is Livans Chen. I like different challenges and competitions. For my team and me,to be honest and friendly to our clients is the permanent rule."Clients' need is our first concern" I take this as the golden principle even since I got engaged in tour industry. I always believe that teamwork is the only way to make us a successful and reliable team for our guests!
<< Back To Top
Martin Zhang

-Designer

Working at HRC makes me understand: as a designer, that the most important thing is how to communicate with the customer and know what is the customer's require.
<< Back To Top
Rachel Lin

-Hotel Product Manager

Hi, I am Rachel Lin, a sincere girl from north of China. I have worked in HRC for 1 year. And I am happy to work here since there are many challenges and chances to me. I believe that good service and quality are everything. So I do my best to offer the best hotels and the most competitive prices to our clients.
<< Back To Top
Martin Zhu

-Editor

Mahatma Gandhi once said that the future depends on what we do in the present.
Hello, this is Martin Zhu. I come from Yichang, which is the site of majestic and famous Three Gorges Dam. During over 1-year's work in HRC Worldwide, I get to know the essence of the tourism. Welcome to China and have a nice trip.
<< Back To Top
Sam Qiu

-Designer

Hello, I'm Sam Qiu, a website designer of HRC. I love design since it's challenging and fun. And I've developed two hobbies while I am working here - traveling and photography, since I can learn from my colleagues that shares the same hobbies with me.
<< Back To Top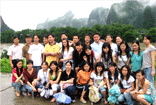 The Strong Customer Service Team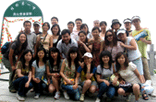 Sales and Marketing Team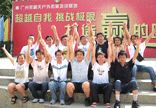 Other Photos